Welcome to The Sims Resource!
Hi and welcome to our large and thriving community. Take a moment to get familiar with our user interface and features.
TSR gives you the option to enjoy our service as you see fit - browse and download or share your work with others, or maybe both? Best of all, it's entirely FREE!
But if you're really into Custom Content... Become a VIP Member!
This membership is for those who love Custom Content and want to support their favorite Artists and also experience an ad-free version of TSR + all Features listed below. You can choose between a 1, 6 and 12 month subscription starting at just $3.00/month. Best of all? No more waiting for a download to start! Yaaay!

Click here to subscribe now!I'm not interested right now...
---
So this is what VIP Members get:
No advertising on the site
As a VIP member you can browse the site without ever seeing any ads or the Please Wait and Thank You pages. The site will also load a lot faster and will look much cleaner without any ads.
Download Basket
Seeing a lot of CC that you would like to download? With the Download Basket you can simply click on the "add to basket" button and download all of the items together in one zip file. This feature can of course also be used on the mobile version of our site, allowing you to select all your new CC on your mobile and download right away when you're ready to play the game on your PC/laptop.
TSR CC Manager
Organize your downloaded custom content with the TSR CC Manager. As a VIP member you can use this program to download, install and manage all Sims 3 and Sims 4 custom content from The Sims Resource. With just a single click on the "Install with CC Manager" button, a creation will be downloaded and installed right away. And just as easy as that, you can also temporarily disable/enable or completely uninstall the CC.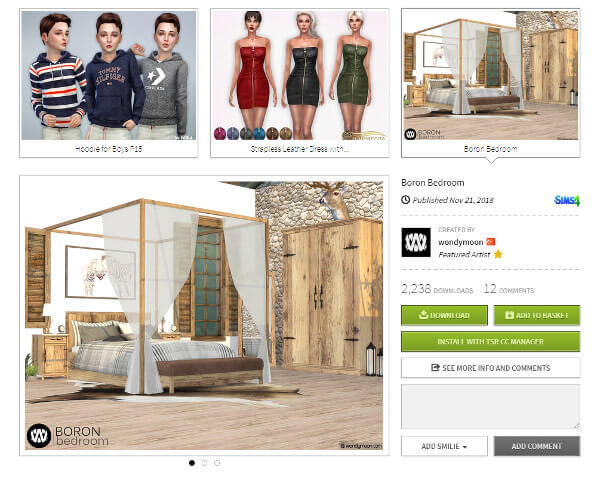 Quick Download
As a VIP member you will be able to use the "Quick Download" mode on our browse pages. You no longer need to open a creation on a new page to view the larger preview images or download it. All of that can be done directly from the browse pages as a VIP member. Of course the Quick Download mode will also allow you to add creations to the basket or install them with the CC Manager.
Download History page
Lost your CC after a computer crash? Starting over completely fresh again? Or just wanting to add that specific creation again that you accidently removed from your game? Whatever the reason is, sometimes you would just like to go through all the CC you have downloaded in the past, and be able to download it again right away. As a VIP member you can do that in a very easy way, on your TSR Download History page. This page will show you all the creations you've downloaded in the past, and will allow you to download them again directly, add to the basket or install them with the TSR CC Manager.
Infinite Scrolling
If you just want to go on a download spree and not having to wade through page after page, then this feature is for you. As a VIP member you can activate Infinite Scroll on the browse view and simply keep on scrolling through as many items as you want!
---
Wondering where to start?

"Like" us on Facebook!
Our Facebook community is big and active with close to 300k followers. Every day we have activities such as sneaks peeks, archive highlights and more. "Like" us today and never miss out on anything.

Start Downloading
We currently have 1 Million completely free Creations for all four The Sims games. You can filter them based on popularity, artist levels, publish date and more. Go take a look and start your download spree now!

Visit our Forums
Our forums have over 15 years of history, from the very first days of The Sims 1 up to the latest developments of The Sims 3. If you have any gameplay or site related questions, this is the place to ask or look for help.
---
Create & Share

Create
Learn to create with your game from our army of Artists, easy to follow tutorials and detailed reference material. PLUS our Workshop tool developed by TSR to allow the world to create Custom Content for The Sims 3!

Share
Upload your creations to TSR for everyone to use. You get great feedback from users about the popularity of your work. Watch those download counts increase as you hone your skills and work to becoming a Featured Artist!

Our Artists
We have the largest collection of top quality custom content in the whole Sims community. This is all thanks to the many great artists that reside here. Take a moment to browse through their own minisites and archives.